Sarah McLachlan School Of Music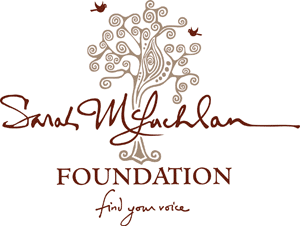 View gallery
Donate to the Sarah McLachlan School Of Music!
Our story is made up of many voices; from Sarah's voice, who continues to inspire our vision, to the students, who share their excitement and enthusiasm, to the dedicated team of staff and instructors. The Sarah McLachlan School of Music (SoM) builds self-esteem and fosters creativity through the power of song and sound.
When Sarah first envisioned a free music school, she knew that in order for her vision to thrive, she would have to think outside the box. Our model is based on the combination of group and private lessons which allows us to appeal to diverse learning styles and to build community. SoM reaches hundreds of young people every year, providing them with the space and the tools they need to express themselves. The school offers them a secure, inspiring place to learn, practice, and ultimately connect with others and with themselves. Students acquire a lifelong appreciation of music, an enthusiasm for learning, and a nurturing environment where they learn the skills they need to explore their creative potential and to develop friendships that will last a lifetime.
Sarah McLachlan School of Music is a music program offered free-of-charge to at-risk youth in Vancouver. Students in grades 4–12 receive high quality music instruction in both contemporary and classical traditions, in guitar, piano, percussion, voice, choir, songwriting and new media.
Our unique approach includes:
Instructors
Students at SoM have the opportunity to study with talented, professional musicians who hold music and/or education degrees. Instructors share a passion for music and find creative and innovative ways of engaging students in the process of learning and creating music. Our instructors come from a wide range of musical backgrounds and experiences, offering a wealth of talent from which our students can learn.
Group Classes & Private Lessons
Weekly group classes are about inspiring and motivating each other, building on one another's achievements, and learning to make music together. Bi-weekly private lessons allow students to thrive with personalized guidance and to target individual skill sets and unique motivations.
Guest Artists
SoM introduces students to guest artists who offer them a different view of music and culture. We invite all types of artists from around the world to share music and expand horizons, from a cuban vocalist to a 20th century pianist, our guest artists give students insight into the many different directions music can take you, and offers them a glimpse into a new world.
Performances
We provide students with diverse performance opportunities, giving them a chance to shine outside their own community, and to develop the self-esteem and life skills that will set them up for success.
For more information, please go to the official website.
From Sarah McLachlan Music Outreach Program:
"The success in this project lies in seeing the smiles on the kids' faces, and seeing how proud they feel, singing and doing so well." - Sarah McLachlan
The Sarah McLachlan Music Outreach ~ An Arts Umbrella Project, a free music outreach program to children and youth in Vancouver's inner city, offers students high quality music instruction in guitar, piano, percussion and choir. The program also provides a support network for inner city youth that will enable them to develop a life-long love of music and enthusiasm for learning.
This outreach program is guided by the vision of founding partner, international singer/songwriter, Sarah McLachlan, and offers both group and individual music training with a foundation in classical practices and techniques. This past year, 350 students participated in this innovative program.
The curriculum is grounded in eight core values that include professionally taught classes, access to instruments, rich musical opportunities and family partnerships. The best possible instructors have been hired to offer group and individual lessons, and students will be encouraged to perform and become more involved within the music community. The curriculum also allows for students to advance through their studies and to enter into gifted streams. Most importantly, the Sarah McLachlan Music Outreach is meant to be a nurturing environment where young people can explore their creative potential and develop positive peer connections that will inspire them to succeed in life.
The Sarah McLachlan Music Outreach ~ An Arts Umbrella Project is open six days a week. Seven practice rooms, each with a keyboard, provides students with a safe place to practice and explore their newfound skills, and a music listening room, and library of CDs allow students to gain familiarity with different styles and build their music appreciation skills. Year-end and community performances provide students with experiences that develop their musical skills, foster pride and allow them to reach out to the community.
In 2003 Student Leadership Awards were introduced, recognizing the achievements of six students participating in the program. Student Achievement Awards are an important element in creating a culture of excellence in this program, providing an incentive for students to improve their skills and to try their best. Entering its third year, the Sarah McLachlan Music Outreach ~ An Arts Umbrella Project is making a profound difference in the lives of children: inspiring confidence and self-esteem, and fostering creativity in young people through the power of music.